Ekspozicijos
Joniškio istorijos ir kultūros muziejuje (Vilniaus g. 6, įėjimas iš Žemaičių g.) veikia etnografijos, archeologijos ir sakralinė ekspozicijos, kurios reprezentuoja muziejuje sukauptą ir saugomą krašto istorijos, archeologijos, etninės kultūros, tautodailės ir sakralinio meno paveldą.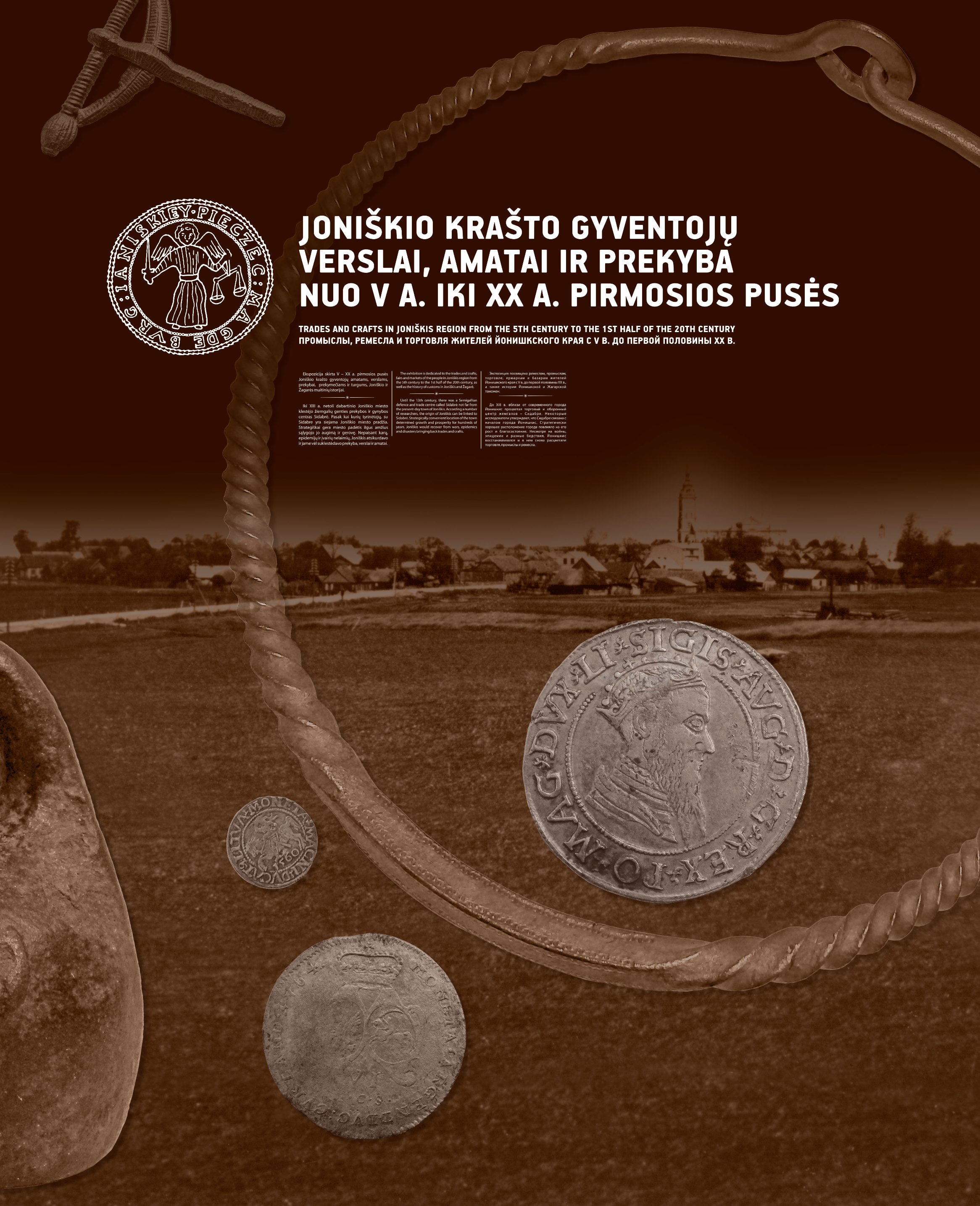 In 2015, the exposition "Businesses, crafts and trade of Joniškis region residents from 5th century until Ith half of the 20th century" was opened at the museum, which is intended for the history of crafts, businesses, trade, merchandise and markets, Joniškis and Žagarė customs of the country residents. Exposition has been installed using the modern exhibition possibilities and technologies. It displays the exhibits reflecting the period and thematic (13th century Lithuanian long alloys,  16th - beginning of the 20th century coins, banknotes, bills of exchange, antique weighing and volume measuring instruments, 19th - beginning of the 20th century custom seals, interwar customs officer uniform).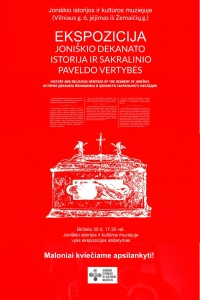 Since 2016, museum displays the exposition "History of Joniškis deanery and values of sacral heritage". Exposition is intended for the values of sacral art of deanery center – Joniškis Church, and priests who served in the parish clergy. The exhibit presents exhibits of sacred heritage of great artistic and historical value: paintings of a 19th century unknown painter and paintings of the Cross Road Stations by the famous fellow-countryman painter Adomas Varnas, valuable 16th-19th century religious books, liturgical clothes, personal things, photographs and ritual items of the priest Jonas Marcinkus-Taurinis and the Dean Monsignor Juozapas Dobilaitis.
In the White Synagogue (Miesto str. 4A) contains a modern and interactive exposition "Joniškis town historical development". The exposition consists of historic exhibit furniture imitating the buildings of Joniskis city, containing the restored archaeological finds from Joniškis region, old publications, which have been selected from the funds of the museum. The exposition is equipped with a computer terminal with a fun game "Defend the Castle of the Semigallians from the Livonian Order Flocks". Synagogue is equipped with hanging panoramic imitations of roofs and facades of interwar Joniškis buildings. Audiovisual projection expressing creatively the development and change of the history of Joniškis city, natural and urban landscape and the most important historical events of the city is presented to the visitors.
In the red Synagogue (Miesto str. 4B) there is a computer terminal containing an integrated interactive content. In the video record gallery uploaded into the computer terminal, can be seen the events meaningful to the Jewish history and culture which took place in the Red Synagogue. Right next to each record there is a description of it. Computer terminal has an interactive educational game which can be used to learn to recognize the ritual objects which were and are present in the interior of the synagogue, as well as to get more acquainted with their purposes and meanings.